CLIENT CENTRIC
---
Our approach is focused on our client: We are proud of always thinking in terms of what is best for the client; offering solutions that are not only theoretical but workable; and being responsible for leading the client along the path to success.
PROFESSIONAL EXCELLENCE
---
We offer services of superb quality based on our accumulated, extensive and profound knowledge and experience. As a true leader in the industry, we also strive constantly to explore new services.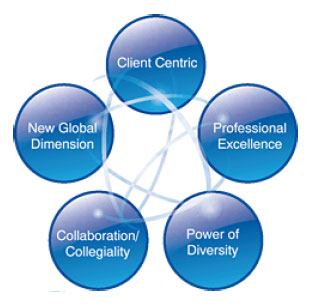 POWER OF DIVERSITY
---
We share a corporate culture of mutually respecting individual capability, and in turn, helping one another to grow. Our growth is the client's growth.
COLLABORATION/COLLEGIALITY
---
In working as a team that includes the client, we also share a common goal with the client and take full advantage of each other's wisdom and experience. Our solutions will necessarily be realistic and become an intrinsic part of the client's business.
NEW GLOBAL DIMENSION
---
We know how to proceed with our business, absorbing all best practices in the world as our own while respecting the locally prevailing value systems. Our global and regional experience and network enable us to offer services leading to the results that are specific to the client.